New model for future power? Doosan Infracore Releases Hybrid Powertrain
Recently, Doosan Group company Doosan Heavy Industries and fighting SEM process machinery N. participated in New Orleans, Louisiana Ernest Morial Convention Center organized the "2019 International Exhibition of American Electric Power (POWERGEN International, hereinafter referred to as 'Power Gen')" . The Power Show is the world's largest energy and power generation exhibition held annually in the United States.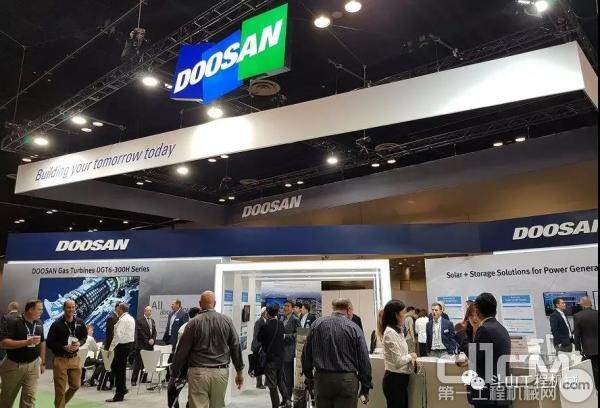 Doosan participates in 2019 U.S. International Power Show
At this exhibition , Doosan Infracore 's performance is dazzling. With the increasingly serious global environmental protection issues, how to develop sustainably has become one of the most important issues in the industry, and environmental protection has become the development of brand products. Priority issues.
So, how to create more economical and high-performance products under the benchmark of green environmental protection? Doosan Infracore provides the answer.
For the first time, Doosan Infracore announced its hybrid powertrain * prototype (* powertrain: a general term for the parts that provide power to the machinery) that takes both "economy" and "environmental protection" into consideration.
Doosan's hybrid powertrain is a product in which an electric motor and a battery are installed on the engine at the same time. When low power is required, the motor can be used to complete the power output. When high power is required, the engine is used to supply energy, minimizing energy consumption. And exhaust emissions.
Doosan launches new hybrid powertrain
The hybrid powertrain introduced this time is a 48-volt (V) electric motor connected to an upgraded 2.4 diesel engine with a displacement of 2.4. It can generate 100 horsepower equivalent to 3 upgraded engines, which is a greatly improved economy. The product. In addition, it does not need to be installed in the 3 upgrade engine, and it can meet the exhaust standard limit.
The beauty of power; powerful, efficient, and environmentally friendly
At the same time, Doosan Infracore also introduced mass production models of the DX22 engine with high performance and environmental protection. DX22 is a 22 upgraded large electronic engine with 20% more power than the mechanical engine of the same class and the highest level of fuel efficiency in its class.
Engine; best reliability, availability, and maintainability
The person in charge of Doosan Infracore 's Engine Division stated that "in line with the global trend to tighten exhaust emissions, cutting-edge electronics and hybrid technologies have developed at a rapid pace." Business, has always focused on market and product diversification. "
Doosan has been committed to the development of economic and environmentally friendly products to cope with severe environmental and ecological problems
Under the global environment of sustainable development, Doosan Infracore has taken a big step forward, and continuous exploration and development can create even better products. As the world's leading construction machinery brand, Doosan has been committed to the development of economic and environmentally friendly products to deal with severe environmental and ecological problems. Looking at the entire Doosan Group, wind power, fuel cells, drones and intelligent collaborative robots have already been actively responding to and solving the problems And environmental issues in the production process.
In the future, Doosan Infracore will follow the steps of the Doosan Group to create green products with clean energy and sustainable development.